Four new architectural marvels make worthy settings for some of the sexiest cars ever built.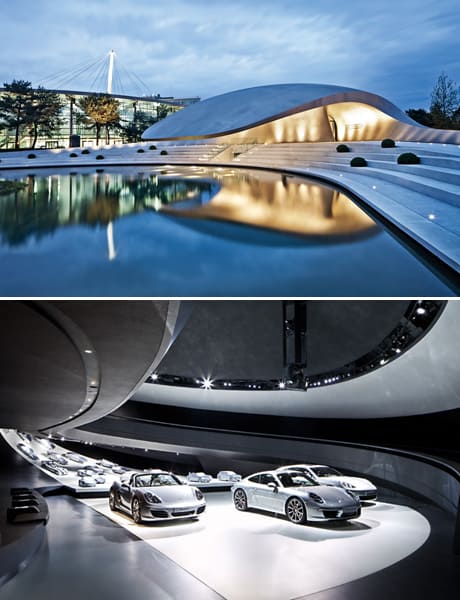 Porsche Pavilion at Autostadt
Wolfsburg, Germany
On the outside, the Porsche building in Volkswagen's 69-acre "car city" looks like something the king of aerodynamic design, Eero Saarinen, might have built. On the inside, 25 silver models depict Porsche's unlikely evolution from the 1948 teardrop-shaped 356 two-seater to the brawny Cayenne SUV of today.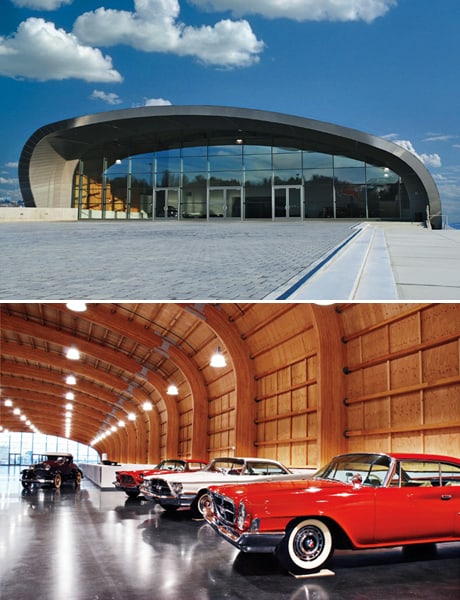 LeMay—America's Car Museum
Tacoma, Washington
The onetime largest privately owned car collection in the world has moved into an intergalactic hangar just off Interstate 5 that remains true to founder Harold LeMay's wide-ranging tastes: Inside, a $1 million Duesenberg Model J shares the floor with lemons like the Wayne's World–era AMC Pacer.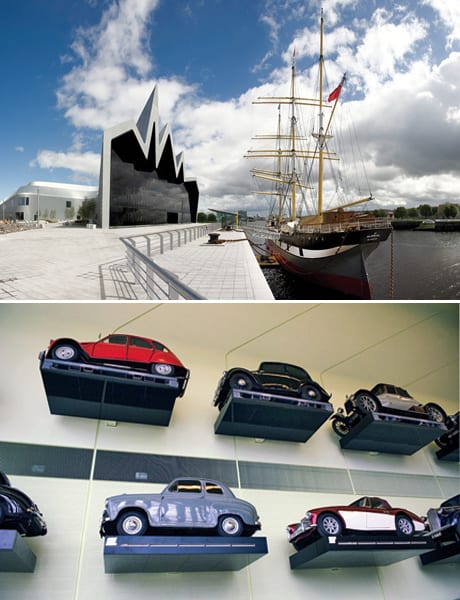 Riverside Museum
Glasgow, Scotland
Century-old cars from defunct Scottish manufacturers like Argyll and Beardmore are on display beside latter-day artifacts like a 1995 Subaru Impreza driven by native-son rally hero Colin McRae—all set behind a zigzagging façade designed by Pritzker Prize winner Zaha Hadid. Front and center is a wall of cars, where life-size vehicles perch like specimens in a collector's case.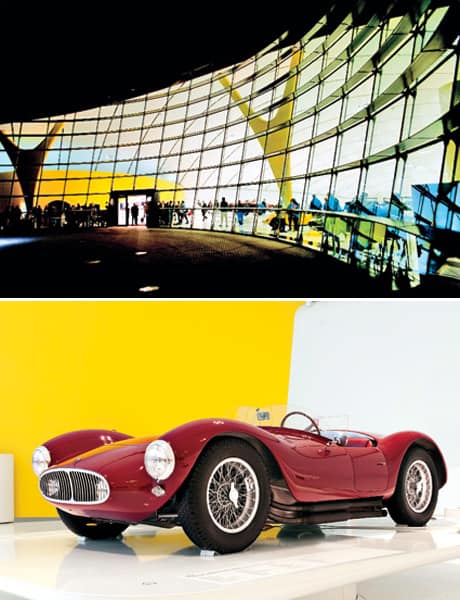 Museo Casa Enzo Ferrari
Modena, Italy
The original brick workshop of Enzo Ferrari's father assumes mythic status beside this new paean to the carmaker's legacy. The 53,820-square-foot museum features a roof punctuated by vents worthy of a Ferrari Dino, and vintage race cars on display have included Alfa Romeos, Maseratis, and the 1947 125 S—the first car to bear the Ferrari name.• • •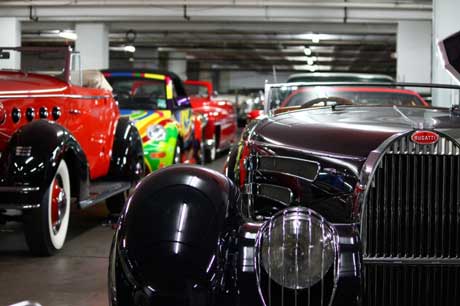 The Opening: Go Inside the Vault at a Los Angeles Car Mecca
Auto lovers, rejoice: The Petersen Automotive Museum has opened its permanent collection to the public. In the basement you'll find more than 150 lust-worthy cars—Steve McQueen's Jaguar XKSS roadster, an Art Deco Rolls-Royce coupe, a 1939 Bugatti that belonged to the Shah of Iran. Those with more catholic tastes can admire a 1998 Cadillac stretch convertible blessed by Pope John Paul II.
Photographs courtesy of each location.