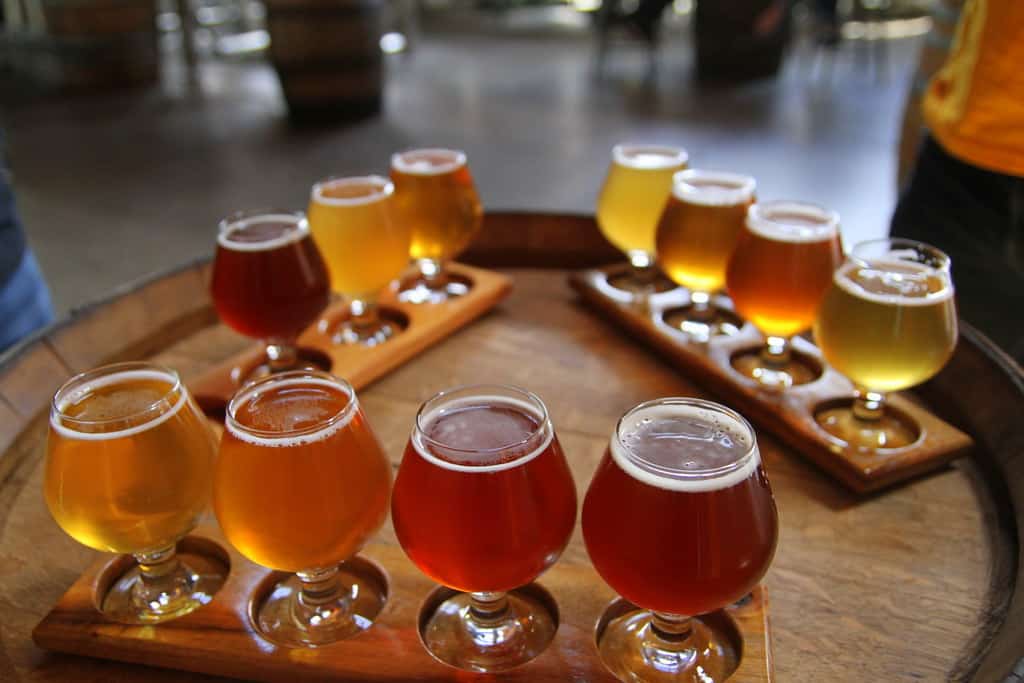 Everything you need to know about Japanese craft beer, barrel-aged beer, wine-beer hybrids, and gypsy-brewed beer.
Until lately, cocktail geeks and wine snobs had all the fun. But now brewers are crafting beers with the complexity of fine whiskey, the acidity of great champagne, and the bright flavors of a mixologist's special. "There are so many ways for brewers to innovate," says Greg Engert, beer director at ChurchKey in Washington, D.C. "Every day I put five new beers on tap, and every week I add 10 new bottles to the menu." With so much to be sampled, here's a guide to the most exciting trends brewing in the beer world.
1. The Best of Both Worlds: Beer-Wine Hybrids
Brewers are now supplementing their suds with vineyard-grown grapes—a win-win for wine and beer drinkers alike.
From left: Allagash Victoria Ale, Birra del Borgo L'Equilibrista, Blue Moon Vintage Blonde Ale, Cantillion Vigneronne, Dogfish Head Noble Rot
Allagash Victoria Ale: Two hundred pounds of Chardonnay grapes go into each batch of this Maine-made pale ale laced with notes of clove and banana.
Birra del Borgo L'Equilibrista: This vigorously carbonated bière de champagne gets a honeyed, pear- tinged lift from Sangiovese grapes. $
Blue Moon Vintage Blonde Ale: Unfermented Chardonnay juice amplifies the tang of this wheat beer, Coors' spin on the trend. $10
Cantillon Vigneronne: Muscat grapes lend this aged Belgian lambic a mellow fruitiness.
Dogfish Head Noble Rot: A combo of Washington-grown Viognier and Pinot Gris gives this tart-finishing brew from Deleware its kick. $1
2. The Limited Edition: Gypsy Beer
So-called gypsy brewers are roving artisans who make beer at the borrowed facilities of other brands. With little overhead of their own, they are then free to create rare, experimental concoctions using an ever-changing assortment of local ingredients. The most esteemed of these nomads is Denmark's Mikkel Borg Bjergsø, who last year alone crafted 94 new beers at various facilities in Norway, Belgium, Australia, and Scotland, often brewing a single batch before retiring the recipe. Here, he shares his gypsy-brewed favorites.
Mikkeller Sur Munk
One of Bjergsø's signature releases. "A couple days before bottling we blend two finished beers: a sweet Belgian quadruple and a sour ale," he says. It results in an explosive aroma and a mouth-puckering flavor between candied and tart.
Stillwater Cellar Door
"Most Americans think Belgian ale is sweet, fat, with lots of spices, and high in alcohol," Bjergsø says, but Maryland-based brewer Brian Strumke makes it "clean and drinkable"—in particular, this made-for-summer beer, which delivers a complex, refreshing balance of grass, citrus, and sage flavors.
T øl Snowball
Brewed by two Bjergsø acolytes, this saison from Denmark is a dry, vigorously effervescent beer that is, as Bjergsø describes, "a perfectly executed, not-too-yeasty blend of a hoppy American beer and a Belgian-style."
Evil Twin Yin and Evil Twin Yang
This is actually two Danish beers: the imperial stout Yin and the imperial IPA Yang, made by Bjergsø's twin brother, Jeppe Jarnit-Bjergsø. "As long as he makes good beers, he's not a competitor," Bjergsø jokes. He suggests you mix the two brews together for a reinvented Black and Tan.
3. The Artisanal Import: Japanese Craft Beer
Hitachino Nest Red Rice Ale and Yoho Aooni
The experimental ethos of American craft brewing has spread to Italy, Scandinavia, and now Japan. Some riff on classics like IPA—try Ozeno Yukidoke at L.A.'s Lazy Ox Canteen or Yoho Aooni at Full Circle Bar in Brooklyn. Others rely on indigenous ingredients, such as Hitachino Nest Red Rice Ale (on the list at Atlanta's Porter Beer Bar), flavored with heirloom rice, or Baird the Carpenter's Mikan Ale, served at Chicago's Bangers and Lace. It harnesses the pungency of the mikan fruit. As Ria Neri, the bar's beer director, says: "This is what makes Japanese beer so exciting—they use their resources."
4. The Vintage Brew: Barrel-Aged Beer
Picobrouwerij Alvinne Bolleville
Belgian ale + Calvados apple-brandy casks x six months = A brown beer with notes of caramelized cider and smoke.
Birrificio Montegioco Dolii Raptor
Italian ale + Barbera wine barrels x six months = An easy-drinking amber brew with balanced, food-friendly acidity.
J.W. Lees Harvest Ale
English barleywine + Cream-sherry casks x four months = A low-fizz, low-foam specimen tinged with raisin, honey, and pear flavors.
Anchorage Brewing Company Tide and Its Takers
Belgian-style tripel + Chardonnay barrels x eight months = A citrusy, briskly carbonated beer with ripe earthiness.