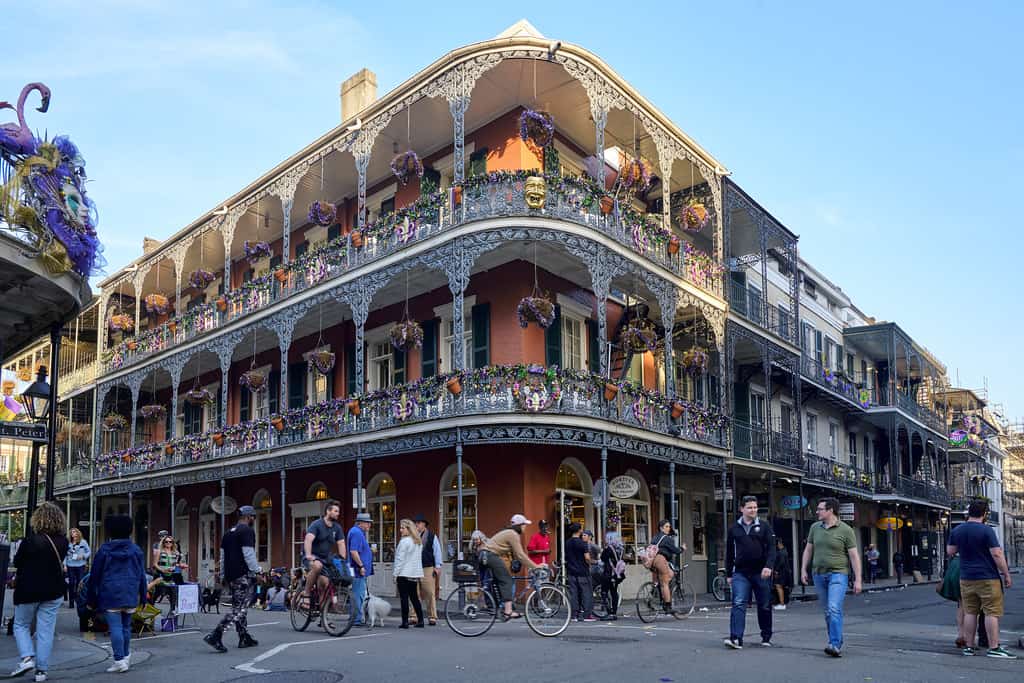 The Big Easy is in the midst of a big boom—and most of the action is happening outside the French Quarter. Once-derelict neighborhoods have gone from gritty to gentrified at a pace that's decidedly un-Southern. Uptown's Freret Street is now lined with hipster-crowded bars and performance venues swathed in reclaimed wood, and on the other side of town, the Bywater has evolved into bohemian enclaves with juice bars, art-inspired graffiti, and mat-carrying yogis. The Quarter still has plenty to offer, but thanks to a spate of openings in 2013, it's time to venture beyond the neon-lit debauchery of Bourbon Street. Here's where to go.
Neighborhood: Bywater
What: A refurbed industrial space on the first floor of a century-old rice mill is the setting for Iris chef Ian Schnoebelen's second endeavor, an Italian eatery inspired by his inaugural trip to the boot-shaped country. The restaurant's rustic, ingredient-driven fare, paired with wallet-friendly wines, has already garnered the kind of buzz that inspires an uptown crowd to make the trek downtown.
What to order: the spritz cocktail (aperol, prosecco, and club soda), lamb meatballs, housemade salumi, pig-ear salad
• • •
Neighborhood: Bywater
What: The brainchild of a travel writer and a street-food enthusiast, this newcomer is part coffee shop, part restaurant, and part gallery. In the morning, laptop-toting entrepreneurs get their Stumptown fix and take advantage of free Wi-Fi; meal-times are for noshing on pierogis, ramen noodles, tacos, Belgian fries, and other street-food staples from around the world. Neighborhood types (including singer Solange Knowles) call this their local watering hole. Bonus: There's a rotating art installation in the bathroom.
What to order: the house daiquiri, a.k.a. the Bywater Bomber, banh mi
• • •
Neighborhood: Warehouse District
What: The newest addition to chef Donald Link's expanding empire (Herbsaint, Cochon, Cochon Butcher) is to seafood what its pork-centric sibling, Cochon, is to meat. The centerpiece of the lofty, always-packed space is the custom-built wood-fired grill, and the signature dish is whole fish, cooked over hardwood coals and big enough to feed a crowd. The bar area is mostly for overflow—but cocktails like the 3rd Ward Zombie (rum, nocello, pineapple, and lime) are worth arriving early for.
What to order: the whole grilled redfish with salsa verde, capellini with crab and chilies, royal red shrimp with garlic butter
• • •
Neighborhood: Bywater
What: Now that this pop-up from New York–born Tulane grads has permanent digs (in a converted warehouse near the levee), the menu has expanded to include specialty pizzas like eggplant parmesan and peppadew, arugula, and prosciutto, plus pastas, salads, and desserts. There are also craft beers on tap and wines by the glass—plus a brand-new patio with wood and steel furniture, twinkle lights, and an herb garden.
What to order: the cheese pie, buccatini carbonara, sea-salted chocolate-chip cookies
• • •
Neighborhood: Uptown
What: The ramen and pie pop-up from a trio of Dante's Kitchen chefs has found success with an unlikely pairing—and permanent digs in a former pizzeria just off Magazine Street. The renovated space, with tribal masks on the walls, polished wood, high-gloss turquoise floors, and Christmas lights, has transformed from having a Southern Italy vibe to a South Pacific feel, but the menu has stayed relatively the same, with a rotating roster of four soups and four pies as the mainstays.
What to order: the house ramen bowl, lemon-salted chicken skin, banana-cream pie
• • •
Neighborhood: Freret Street
What: More than just a deli, this Freret Street sandwich shop in a former boxing gym has a full bar and a Galatoire's alum in the kitchen. The look—exposed pipes, reclaimed lumber, found objects—is industrial-meets-diner, and there are bar snacks like arancini and duck sliders to go with local drafts and craft cocktails.
What to order: the knuckle sandwich: cold, thinly sliced roast beef, horseradish aioli, pickled onions, arugula, and shoestring potatoes on a pretzel roll
• • •
Neighborhood: Freret Street
What: This low-key bar across the street from Dat Dog eatery pairs a serious rum list (Old Port Rum, Ron Zacapa 23) with canned beers, skee ball, and an eclectic, recycled wood aesthetic. Tap into your inner college student over a game of Ms. Pac-Man and a PBR.
What to order: classic rum cocktails: rum and Mexican coke, mojito, dark and stormy
• • •
Neighborhood: Freret Street
What: The managers of this new music venue are musicians, which means visitors can count on seeing great acts on a pro sound system, including a mix of national and local talent—Mike Cooley of the Drive-By Truckers, the Soul Rebels Brass Band, Houndmouth, and Bill Summers, to name a few. The eclectic, gallery-like space also hosts month long art exhibitions, retail pop-up shops, and yoga classes—and it's worth a trip to the men's room to check out a life-size sharpie sketch of dueling lady warriors astride a lion and a dinosaur.
What to order: the Cajun Werewolf (dark rum, spiced rum, ginger syrup, and ginger beer)
• • •
Neighborhood: Freret Street
What: A former grocery store, this multi-purpose space is a combination drinking den, live music venue, sports bar (complete with nine flat-screens), and comedy club. There's also a patio garden, and the parking lot is periodically home to food trucks, crawfish boils, and, as of December, the Freret Night Market. Reclaimed shutters, light fixtures fashioned from repurposed CO2 canister tops, an M-37 Dodge army truck from WWII turned sound booth, and school desk seats are fitting backdrops for cocktails served in Mason jars with free popcorn.
What to order: Beer-tails are the house specialty, as are craft frozen cocktails, like the Irish coffee made from cold-drip coffee and Jameson, and fresh juice and premium spirit daiquiris.
• • •
Neighborhood: Uptown
What: This tiny newcomer in an ivy-covered storefront on Magazine Street is one of New Orleans' most eagerly awaiting openings. Helmed by Sue Zemanick—a Food & Wine Best New Chef, four-time James Beard Award nominee, and executive chef of Gautreau's—the lounge-like restaurant pairs small plates like crab claws with drawn butter, gougeres stuffed with shrimp salad, and lamb meatballs, with classic cocktails. Go for late-night snacks and bring a crowd.
What to order: Buffalo-style fried ribs with celery and blue cheese, Old Fashioned