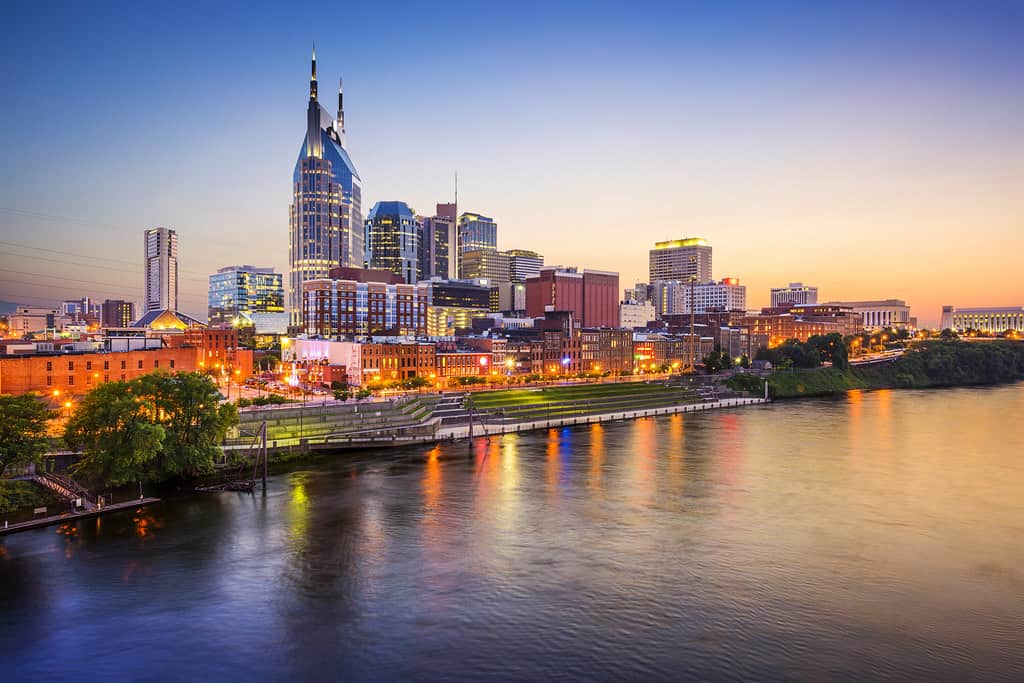 Two stylish, homegrown entrepreneurs leading the Music City's revival offer a local's take on where to drink, stay, eat, and shop in this resurgent, red-hot destination.
Max and Benjamin Goldberg in their restaurant Merchants
Don't let the twangy stereotype
fool you: The country-music capital is teeming with trendy restaurants, effortlessly cool cocktail joints, and bespoke tailors giving throngs of creative transplants a jolt of rock-and-roll flash. Throughout the city's renaissance, two of its most successful native sons have been Max Goldberg, 30, and his brother Benjamin, 34, whose ventures include the Patterson House, a speakeasy-style bar, and the Catbird Seat, a luxe 32-table dinner hot spot and celebrity hangout. Their latest project, opening this fall, is also their most ambitious: Pinewood Social, a restaurant, bar, café, and large living-room-style workspace with six vintage bowling lanes rescued from a Bowl-A-Rama, all housed in an old trolley barn with an outdoor pool, complete with a retrofitted 31-foot Airstream trailer for a bar. Here, the Goldberg brothers provide a list of can't-miss spots that every traveler to the Music City—and fan of the ABC show—needs to know.
__The Shoe Store
Peter Nappi__
One of Benjamin's favorite pairs of shoes comes from this leather-goods studio. "I wear my lace-ups everywhere," he says. "It takes me 35 minutes to get through security at the airport." The studio occupies a repurposed abattoir on a rock bluff overlooking the Cumberland River.
Inside the Peter Nappi studio
__The Restaurant
Rolf and Daughters__
Housed in a renovated factory in Germantown, this neighborhood restaurant serves stellar dry-aged meatballs with a garlic-scape gremolata—but it's the inventive cocktail menu that makes it worth a trip. Says Benjamin: "I order the Man Around Town," a mix of Weller Special Reserve Bourbon, Campari, and chocolate bitters. "Then I order another one."
The Hermitage and the Hutton__
Boutique options are limited, but two venerable spots make the Goldbergs' cut. The Hermitage is classic southern-genteel luxury, while the Hutton is flashier. "The wedding is at the Hermitage," Max says. "The bachelor party is at the Hutton."
thehermitagehotel.com; huttonhotel.com
(Right: The lobby of the Hermitage hotel)
__The Foodie Destination
Beacon Light Tea Room__
Forty miles west of Nashville in Bon Aqua is a southern roadside classic that serves succulent fried chicken with garden-fresh okra and green beans. "Our mom asked the waitress if they got them at the farmers' market," Max says. "She replied, 'No, ma'am, we grew them in the backyard.'"
__The Record Collector Spot
Nashville Flea Market__
Benjamin says vinyl aficionados can get their fix at the Tennessee state fairgrounds, where you can buy a stack of vinyl for as little as $25. "It's so cliché," he says, "but the last one I bought had a Hank Williams record on top."
Robert's Western World__
"I send all my music-snob friends here," Benjamin says, even though this honky-tonk sits on the tourist-choked sidewalks of Lower Broadway. "There was a 17-year-old guitarist who melted our faces our last time there." robertswesternworld.com