Entrepreneur and Made in Chelsea star Jamie Laing tells Magnate about his sweet-tasting venture, Candy Kittens.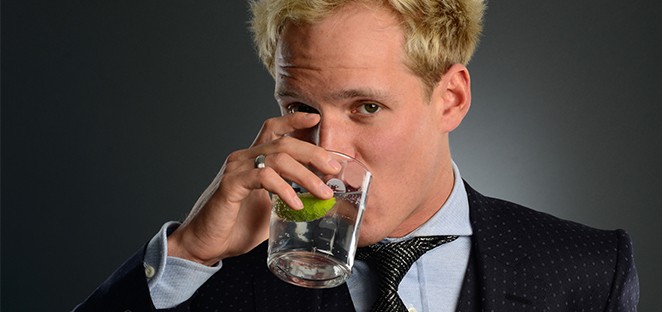 You could be forgiven for thinking that 24-year-old Jamie Laing wasn't for real, starting a business on the back of his success on reality TV show Made in Chelsea, but how busy his phone is acts as a good clue that he is.
From the moment he arrived at our photo shoot in Butler's Wharf his phone was going mad. Calls from bookings agents, production crew and even fellow cast-members kept him busy, as he planned a replacement for an appearance he couldn't make in Dublin that night.
The Chelsea boy's fame came after he joined the cast of E4's hit reality show Made in Chelsea, in 2011. But – as Jamie admits – he hadn't always planned to be part of the show.
'I was asked to do the first season of Made in Chelsea, but I said no. They pitched it to me as 'wanting to follow a bunch of posh kids around with a camera'. I thought it was the worst idea ever. They approached Spencer and he said yes, so I told him it'd be the worst thing he has ever done.'
Deciding it may have been a missed opportunity, Jamie decided to join the cast for the second series of the show, and remains one of the central characters as the show enters its fifth season.
Despite his indecisive nature towards the show, Jamie says there are some things he's always been clear about, including his urge to run a business.'
'I hated school and always knew I wanted to work for myself. I've never understood the logic of working to make someone else richer.
'I knew that if I wanted to go into business I'd have to do something which I loved. The three things which I really love are candy, fashion and girls.
I put them together to make a business and so Candy Kittens was born.
'We want to change the way in which people look at candy. If you look at chocolate people put so much effort in and you can get really amazing boxes, whereas sweets are only really marketed at young children.
'Our aim with Candy Kittens is to change that and make sweets cool again. If you look at Katy Perry, who talks a lot about candy, she makes it very fun and energetic. That's really what we're aiming for.
'I think making sweets appeal to all ages is all down to the packaging and their availability. We're exploring a number of options right now, including stocking in airports and mini-bars. It's going to be big!'
The idea of Candy Kittens was first introduced to the public when Jamie was seen on Made in Chelsea pitching the idea to his bank manager, Frank, who oversees the trust fund from his father, Nicolas Laing. The reaction from Frank didn't seem as forthcoming as Jamie might have hoped, but the business launched nevertheless.
Since launch Candy Kittens has been both online and on the high-street, with two 'pop-up shops' in London – one on the King's Road and the other on Carnaby Street – and another which has just opened in Leeds, all selling the company's brand of clothing and sweets.
Candy Kittens' clothing has proved incredibly popular with younger female fans of the show, as Jamie admits. 'If I'm honest we knew from the outset that Candy Kittens would be targeted at teenage girls, because they're the demographic who really buy into Made in Chelsea.
'Teenage boys have quite a lot in their lives, when it comes to aspirational things. They have football, rugby, Playstation – a lot of things to keep themselves entertained, whereas girls don't really have that.
'I think that more than anything they buy into brands which they can aspire towards.
'I think brands like Justin Bieber and One Direction show that if you can get these girls to buy into something you're onto a winner.'
Jamie's other love – fashion – is vividly clear as he speaks about his style and dress-sense. Asking Jamie about his style brings a smile to his face, as he sits up in his chair.
'I like to think that my style is a mix somewhere between Tom Ford and David Beckham. It's a hard title to live up to, but I give it my best shot.
'My style is always changing, but I think it's important to feel comfortable with what you're wearing, which is why I wear a lot of casual stuff. I prefer under-dressing to overdressing.'
He continued, explaining what he was wearing for the photo shoot. 'I'm wearing a tailored suit from roomten on Savile Row, with a Boggi shirt and Gucci shoes.'
We asked Jamie to offer one piece of fashion advice, which can be used this spring. He simply replied 'sunglasses'. Pushed to explain, Jamie said that he 'never leaves home without sunglasses.''I have loads of pairs' he said, 'and always have a pair with me. There's a brand called Super-Retro who I love, but they're based in Italy so not a lot of people know about them.
'The most expensive sunglasses I own are Louis Vuitton, but I won't buy them again because they're shit.'
Moving back to more serious territory, Jamie looked to his future both on Made in Chelsea and in business.
'As long as they want me on the show I'll be there. I'm the most loyal person you'll ever meet, and I'll never turn my back on Made in Chelsea, but 10 years down the line I don't want to be remembered as just 'Jamie from Made in Chelsea'.
'I'm serious about business and we're doing some really exciting things in the future. I've got some really interesting ideas.'
Wherever Jamie ends up in 10 years time, one thing is for sure; we can expect lots of peroxide, lots of pairs of sunglasses and a hell of a lot of candy.