Pre-wedding bling is no longer a ladies-only affair, but what man wants to slip on an I'm-getting-married band?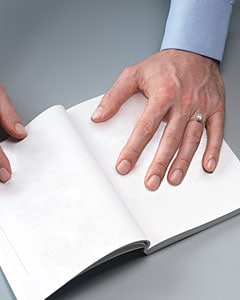 On a sunny afternoon in June five years ago, Tyler Wigg-Stevenson proposed to his girlfriend, Natalie, at the top of a bell tower at Yale Divinity School, in the way that men have been doing for generations: He got down on one knee and presented a brilliant-cut diamond ring. After she accepted, they descended the steps and drove to her apartment to call friends and family. That's when things got weird: Natalie disappeared into the other room and returned with a small box. Before Wigg-Stevenson knew it, she'd performed an act that's becoming as common among the engaged as announcing a gift registry: She extracted a lightweight gold band with a Celtic knot pattern and gave it to her intended.
"It definitely caught me off guard," says Wigg-Stevenson, who works for a nonprofit. But at no point did his inner alpha chime in with thoughts such as What the hell is she doing? "I actually liked it," he says. "It makes more sense for both parties to have an engagement ring—it's just not the way we generally do it."
Clearly "the way we generally do it" is changing. Two years ago, Britain's largest jeweler, H. Samuel, introduced the Tioro—a titanium ring embedded with a tiny diamond—billed specifically as a men's engagement band. And recently American jewelers have been following suit. "We get maybe 20 to 25 inquiries a week from women who want to propose," says John Cordova, an expert at California-based Robbins Brothers, which calls itself the "world's biggest engagement ring store." "We've got literally hundreds of possible engagement bands for guys." While some of the uptick in sales may be due to gay marriages, it seems that the phenomenon has been gathering steam for some time: The term mangagement ring has surfaced on the Internet—and joined mandal and man-cation on an ever-expanding list of linguistic masculinizations that are not so much signs of a blurring of the boundaries between the sexes as they are ways of getting people to part with their cash.
"Let's be honest," says Chris Easter, who runs an online wedding registry for grooms called TheManRegistry.com. "We're in a rough economy. The groom's engagement band is just a sales tactic invented by jewelers to trick young couples into spending money. I don't think we've reached the point where we'll be seeing a man showing off his shiny new engagement ring to his buddies."
Tell that to 28-year-old Army reservist Luis Delgadillo. In December 2007, when Delgadillo was on leave from Iraq, his girlfriend, Jasmine (also a reservist on leave), took him on a stroll through the palm-dotted campus of Chapman University, in Orange County, California. For some reason, she lingered outside the all-faith chapel. Then he noticed it: a big white pickup truck with a billboard that read, LUIS, WILL YOU MARRY ME? "My jaw dropped," he says, as she slid a white- and yellow-gold band on his finger. "I was playing with the idea of proposing to her, but she just kind of took the initiative." The delicious irony of Delgadillo's being rewarded with a stereotypically feminine object for exhibiting the stereotypically male behavior of dragging his feet isn't lost on him. But the ring hasn't earned the kind of scorn you might expect, either. "I've been deployed twice to combat zones—so I don't get too much crap about this from my friends," Delgadillo says.
And then there are the guys who actually plan to slip something on their finger. Dan Utt, 25, who runs an after-school program in Cary, North Carolina, remembers when the feeling hit him. He was at the jewelry store with his girlfriend, Amanda, shopping for her engagement ring, he says, when "I kind of under my breath was like, 'I want one too.'" His decision to act on that impulse didn't go over too well in Morrisville, where he lives. "Some of the guys and girls I know have given me some grief," he says. "My boss was getting a lot of questions too. I told him that if anyone asks to jokingly tell them that we didn't think it was fair for her to have the only pre-wedding bling."
But if anything can lend this phenomenon more staying power than the ill-fated mandal, it's that women are beginning to protest at being the only ones identified as off the market. And strictly speaking, they have a point. "Otherwise, you're the only one marked," says Natalie Wigg-Stevenson (now happily married to Tyler). "I mean, if I can't be sneaky, neither can he."