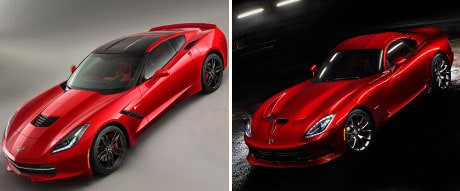 Two classics—the Corvette and the Viper—are getting thoroughly modern makeovers. And this time around, chic detailing and interiors matter. After all, aesthetes feel the need for speed, too.
Corvette Stingray
Estimated starting price: $55,000; chevrolet.com
SRT Viper
Starts at $99,390; drivesrt.com
Pedigree
How many cars have been driven by astronauts and serenaded by Prince? The Corvette celebrates its 60th anniversary this year, and the seventh-generation model revives the storied Stingray name..
Like its Shelby Cobra forebear, the Viper is known for incomparably brash style and speed. Its legend status was secured when the car beat European rivals at the 24 Hours of Le Mans in 1998.
Design
The Stingray's laser-welded, all-aluminum chassis offers the same lightweight-style frame as a Porsche 911 for half the price, and the interior is lavishly made over with stitched leather and customizable digital displays.
After a two-year hiatus, the SRT Viper returns with sumptuous, Ferrari-like leather seats by Sabelt. The aluminum and carbon-fiber body is still menacing, but it's less of a cartoon brute, thanks to a longer, elegantly tapered roofline.
Speed
A 6.2-liter V-8 churns out about 450 horsepower, takes the car from 0 to 60 mph in less than four seconds, and gives it a top speed of roughly 195 mph.
With a chest-thumping 600 pound-feet of torque, the 8.4-liter V-10 gives the Viper a 0-to-60 time of 3.4 seconds and a top speed of 206 mph.
Performance
A groundbreaking magnetic suspension allows the Corvette to grip the pavement like a true supercar, even on narrower, high-speed tires.
The SRT's power-to-weight ratio surpasses that of the $400,000, 691-hp Lamborghini Aventador, but the Viper's new stability-control system helps rein in all that muscle.