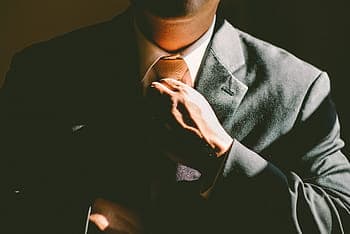 After 21 years on London's storied street, dressing everyone from Elton John to David Cameron, the iconic tailor has a few tricks up his sleeve. Not to mention a very nice watch.
How many suits do you own?
Not too many. I don't think I've even got 10, actually. If you have a bespoke suit and it's beautifully made in a nice fabric, you get very attached to it. You wear it until it's gone, if you like. That's quite British.
What defines your approach to tailoring?
We do a slim classic suit, with a high arm hole and slightly slanted pockets on the jacket—these are little cheats that make you look thinner and longer. And I tend not to do belt loops on the trousers—we do slide adjusters instead, because I think a belt cuts a man in half. Of course, we'll also do whatever the customer asks.
Whose personal style do you admire?
Manolo Blahnik. He has suits purposely made too big for him, which looks awful on most people, and yet on him it just hangs differently. He dresses beautifully and always has.
How should men wear color when it's gray out?
A slightly brighter navy suit is lovely in the winter because you can do it in flannel and it's very soft and comfortable. I remember going to see [British prime minister] David Cameron, and he wanted a navy suit, and I said, "Well, if you have a navy suit on television, it usually looks like a black suit." Black is not very flattering on men in general. So we went with a brighter navy and he looked fantastic.
What's the best gift you've gIven yourself?
I've got a Bridget Riley painting in my bedroom called Midi. It was quite expensive, and I bought it because my mother had recently died and left me some money and I wanted something to remember her by.
What's the best gift you've ever received?
We make Elton John's stage suits for his Vegas show. It's not what you expect from an English tailor, is it? But after his opening night, he presented me with a beautiful Panerai watch on a brown leather strap. That was very special, actually.
• • •
Richard James' Rules of Suiting
Landing on London's famed Savile Row in the early nineties, master tailor Richard James has built a retail empire breathing new life into the old establishment, dressing Mick Jagger, David Cameron, Mark Ronson and other sharp-looking English gentlemen in his colorful, effortlessly cool silhouettes. Below, James sounds off on the importance of a travel suit, the unexpected appeal of mohair, and why you should never underestimate the power of a good lining.
The Rules Are, There Are No Rules
"We made a suit recently for somebody with quite a big lapel on it, and it looked fantastic. It depends if the customer wants to stand out or be in the shadows."
A Great Cut Can Slim Your Silhouette
"We try to keep the sleeves as narrow as possible and the button at the narrowest part of the body." Another trick? "A high armhole makes you able to move better in the suit. Not to mention you look longer and thinner."
Mind the Cuff
"An inch of white sleeve at the bottom doesn't look very nice. It should be there as a full stop—I would say a quarter of an inch."
Show Some Sock
"If you've got a fitted, leaner trouser, make the pant hem a bit shorter so you can see a bit of the sock."
The Lining's the Thing
"I have a dark brown suit with a little bird's eye pattern on it, and it has a burgundy lining. It's beautiful, actually. That's one of the nicest things of going through the process of having a suit made, it's a very private thing—just something that you know about."
Kind of Blue
"I don't like black very much on men. It's not a very flattering color. A bright navy blue cheers you up. I remember going to see David Cameron, and he wanted a navy suit. I said, 'Well, if you have a navy suit on television, it usually looks like a black suit.' So we made a brighter navy, and he looked fantastic!"
Know Your Seasons
"In the winter, a soft flannel is the most lovely thing. In the summer, I quite like mohair—it'll keep you cooler than you'd be in a wool suit."
Fly in Style
"We do suits which we call travel suits—woven in a different way, so they spring back a little bit. It's one of those things where you travel to New York and your suit looks better than you do at the end of it."
Forget the Belt
"A belt sort of cuts a man in half so we don't do belt loops." Of course, if buying bespoke, disregard the rule above. "The whole thing about bespoke is that the customer gets what he wants, you know?"