Between wearing tweed ties while grilling chicken thighs and rescuing thrift-store brogues, James Fox runs the brilliant family, food, literature, and vintage-shopping blog 10engines. Right now, though, he's sharing his considerable style acumen with us.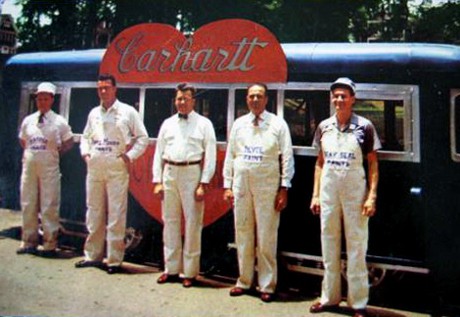 Things never stay the same. So, if you're like me, and prone to style nostalgia, buying the classic pieces you want can get very expensive. In recent years, however, companies like L.L.Bean, Levi Strauss, Filson, and Red Wing have been digging through their hermetically sealed vaults for patterns and materials and producing heritage collections perfect for vintage hunters on a budget. In a time of uncertainty, it makes perfect sense to re-create these familiar classics.
But what about the all-American workwear brand Carhartt? It's opened a few dedicated stores, but its lack of a true heritage collection is a glaring omission in this growing market. Very little of Carhartt's manufacturing is actually done in the United States. For a brand that trades on the notion of the American worker, it's an unfortunate, dispiriting situation.
As recently as 2006, Carhartt's most iconic pieces featuring its hallmark unwashed, 12-oz brown-canvas duck cloth were still available and you can still find them if you're prepared to search to dig. In particular, their old double-kneed B01 pants had a wonderful a no-nonsense straight fit and—with their coin pocket, built flush into the waistband—a restrained, utilitarian appeal.
If you're smart, patient, or lucky, you can also find unworn examples of Carhartt's iconic Eisenhower-era Detroit jacket for about the same price as its modern incarnation. The classic version has a blanket lining throughout body and sleeves. The newer model, meanwhile, merely mimics look of the original with a wool-poly blend lining printed to look like a Troy Mills blanket. On summer evenings, the Carhartt jacket your father might have had works great with a T-shirt, leaving you well prepared if the mercury drops.
But you can't simply go out and buy it at the local Army & Navy store any more. The brand's lineage is broken, but Carhartt can fix it. Its Centennial Collection from 1989, which featured more discreet branding, is proof and their recent collections with Adam Kimmel is a big step in the right direction. Personally, I would love to sit down with its archivist and hash this all out. Otherwise, if someone finds an old box of B01s, drop me a line.