The potent green tea is packed with antioxidants—and a catchy history.
When it comes to buzzy energy drinks, green (tea) is the new black (coffee).
Matcha, a type of green tea made by whisking finely powdered whole tea leaves, is taking over cafes in New York, San Francisco, Boston, and more thanks in part to its high antioxidant content and roots in Far East rituals. With a Brooklyn cafe dedicating its menu to the vibrant green drink to models drinking matcha shots during Fashion Week, you could call it the latest "It" accessory, but that's a lot of new attention for a drink that's been around for centuries.
The tea dates back to 1191, when a Japanese Buddhist monk brought tea seeds to China and helped develop the idea of drinking tea for good health. Beyond enjoying matcha for its nutritional benefits, the monks also spun it as a meditative practice. The recipe calls for grounding and sifting matcha before whisking the powder in water. Focus is vital here, as opposed to, say, steeping a bag of tea while watching TV.
"There's a whole ritual behind it. It sounds cheesy, but matcha is like a mini meditation," says Kathy YL Chan, a travel writer turned tea expert who now helps brands source, create, and make their own teas. "Drinking it is 50 percent of the experience. The rest is about prepping, whisking, and everything else." Growing up in Hawaii, Chan drank matcha as part of her daily routine. She thinks its recent press blitz is due in part to the drink's graphic appeal. "With Instagram, everything is so visual now, and matcha photographs really well," she says.
Filtered photos aside, that sort of mindful timeout is part of matcha's allure—and marketing strategy—for our overstimulated, iPhone-attached brains. Companies like Panatea offer DIY versions, while Chalait in New York City's West Village, Urth Caffe in West Hollywood, and Samovar Tea Lounge in San Francisco serve matcha à la carte.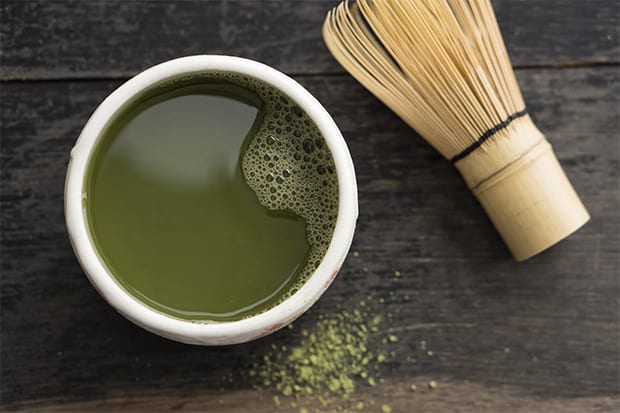 If you're a tea fan, matcha's health benefits—cancer-fighting antioxidants and the metabolism-boosting polyphenol ECGC (epigallocatechin gallate)—should sound familiar. But since matcha contains whole leaves, rather than just the infusion, the perks are more potent. For Graham Fortgang, cofounder of New York's first matcha speciality cafe, MatchaBar, the most impressive takeaways are the lack of acidity and post-drink jitters. That calm can be attributed to L-theanine, an amino acid naturally found in green tea that creates a relaxed but focused alertness. "I was energized but didn't have anxiety or crash," Graham says of his first experience with matcha. "Not everyone wants to get jacked up on a double espresso."
But registered dietitian Karen Collins is less quick to believe the hype. Among her concerns are matcha's caffeine content, which is lower than coffee's but still higher than that of regular green tea, as well as the added sugars in blended drinks like matcha lattes and traces of lead that the leaves absorb from environmental pollution. "Lead content depends on where your matcha leaves were grown, but it definitely would be a concern because you're consuming leaves at about 30 times higher than consuming through green tea," says Collins, who recommends just one cup per day. Plus, studies have been conflicting. "We get the temporary rises in antioxidant defense and decreases in markers of inflammation," she says. "These are very good signs, but we also have to remember that those are just markers. It's not a slam dunk."
Looking to meet your matcha? First-timers might find the straight-up version a mouth-puckering shock to the taste buds. Latte and cold-pressed juice blends can be an easier introduction, as are matcha-flavored desserts, like Doughnut Plant's matcha green-tea mini doughnuts. So you can have your tea and eat it, too.