No, they did not wake up looking like this.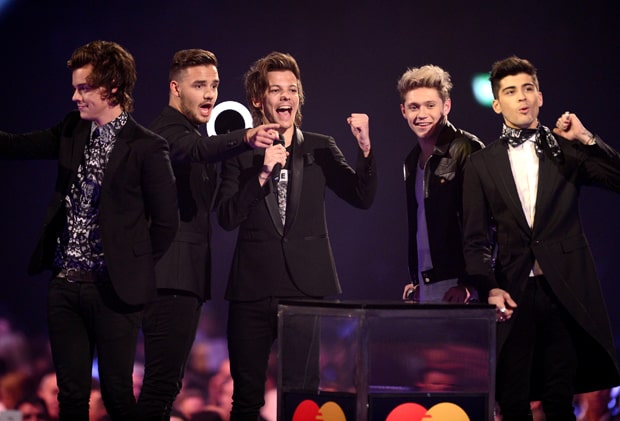 Admit it. You know a thing or two about One Direction: their songs, their fans, and, last but not least, their hair. From Harry Styles' shaggy mop to Zayn Malik's gravity-defying quiff, there's one woman who's responsible for it all. Stylist Lou Teasdale travels the globe as the band's groomer of choice, and she's recently been tapped as a brand ambassador for the newly launched hair-product line Fudge Urban. Because she obviously knows a few things about attention-getting hair, we asked her how to re-create some of her favorite looks at home.
Cleanliness is next to rock godliness.
Contrary to a lot of the claims out there, it's safe—and not to mention, good grooming practice—to wash and condition your hair every day. "When I'm grooming someone, I like their hair 100 percent clean," Teasdale says. Look for a shampoo without sulfates (the foaming agents that can dry out and irritate the hair and scalp) and use a lightweight conditioner. Rahua makes a low-lathering formula that gently cleans hair without stripping, and Teasdale is a fan of Bumble & Bumble's Surf Creme Rinse Conditioner because it "doesn't flatten hair too much or make it too soft."
More is more.
The irony of 1D's coveted mops is that while Teasdale wants the lads to look "like they woke up like that," it takes a considerable amount of product and general know-how to pull off the looks. For example, the key to executing the wildly popular quiff—which has crowned the heads of Bruno Mars, Justin Timberlake, and every 1D member at some point—is about layering products.
If you have thicker, more textured hair, begin with a mousse. If you have fine hair, start with a salt spray. After you've brushed and dried your hair, Teasdale recommends finishing individual pieces with a touch of wax or gel if "your hair is finer and has a tendency to get flat."
Practice makes perfect.
Musicians must practice their instruments, and you'll need to learn how to master your tools so you're always ready for the spotlight. "It's all about technique and practicing it," Teasdale says. "Eventually, it will become easy." Teasdale points to a paddle brush and a dryer with several temperature and speed settings to get both the lift and the polish you're looking for. Just remember to keep everything a little messy and undone, so "it all looks a bit younger."
When in doubt, take it off.
When Teasdale gave 1D's Liam Payne (below) a buzz cut in 2012, she witnessed an immediate transformation. "All of a sudden, he looked like a model," she says.
A strong, ultra-masculine look like this doesn't require much. Just a smidgen of grooming cream paired with a healthy dose of self-confidence and you're good to go.