We know the timeless appeal of Mad Men hair is nothing new (see celebrity stylist Diana Schmidtke's video on how to get the Mad Men side part), but that's precisely why a refresher wouldn't hurt—this is one look that will never go out of style. And with Season 6 upon us, we couldn't resist revisiting Don Draper's clean, cool, and classic cut, which transitions easily from work to date night.
We talked with Los Angeles hairstylist Russ Hart of redT Salon on how to get the Mad Men-inspired do while still keeping it modern.
The Cut:
The Don Draper (a.k.a. the Businessman) is short on the sides and back and longer on top with a very clear side part. As Russ says, "What's so great about Mad Men is that you can literally walk into any hairdresser and ask him to give you the Don Draper and he'll know exactly what you're talking about."
Make sure to tell your stylist if you want a more modern fade (where the hair length gradually gets longer as it goes up on the sides) or the traditional defined separation of the sides from the top.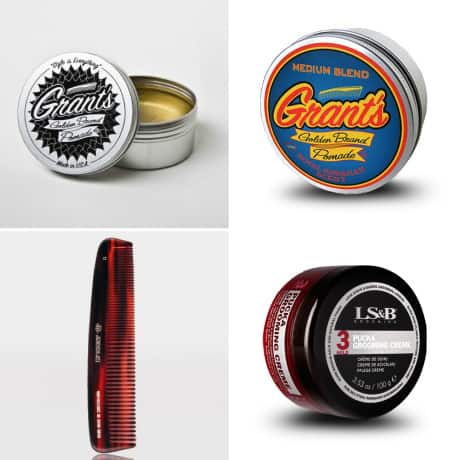 How to Style:
To create volume and keep your hair from looking thin and flat, Russ recommends starting with gel and a blow-dryer. Try adding a quarter-size amount of Imperial Gel Pomade to damp hair and blow-dry using your fingers to guide the hair on top straight up and the hair on the sides down.
Then you can play with the style and define the part. Pomade like Grant's Golden Brand Pomade will get you that classic, polished look. Grant's Medium Blend Pomade is recommended for thinner hair types. Apply a small amount to your hair with fingertips and use a quality comb to define your side part (it should start in line with your temple) to guide hair neatly into place.
Russ's tip for a modern twist on the style: "For something Mad Men-inspired but a little messier and more current, you can take the Lock Stock and Barrel Pucka Grooming Crème and rub a small amount into hair to define pieces and create texture."
Last Thoughts:
This is a great, versatile haircut to have because you can do the Mad Men look, but you can also try a Jack Kerouac-inspired style or the Elvis pompadour. Once you have the cut as the foundation, you can learn to style it in many different ways.